Signs That Your Water Heater Needs Professional Attention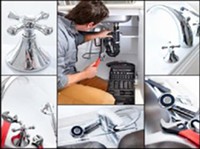 Keeping your water heater well maintained and up-to-date with needed repairs will prolong the life of the heater, saving you a lot of money. However, those repairs may become too severe or complex for you to handle on your own. In order to keep water heaters in Tomball in tiptop shape, you and other homeowners need to know when it's time to call a professional. You need to know what to look for and whether or not you are equipped to handle the necessary repairs.
Some obvious signs of catastrophe will prompt a call to a professional. If you smell the rotten egg odor of a gas leak, evacuate your home immediately and call a qualified professional. Another sign that the situation is too dangerous to handle alone is when the floor is flooded with water. To avoid electrocution, remove yourself and your family, and call a professional. Don't take risks with your life or the lives of your family members.
Water heaters in Tomball which haven't been maintained appropriately will begin to make a lot of noise when they first turn on. These noises may sound like banging, hissing, or popping. These noises are commonly signs that too much residue has built up at the bottom of your tank. If you haven't had time to perform a yearly flush, then you may want to hire a professional to do this service for you.
You may find that the water in your home is running too hot or too cold. If you have trouble getting your water to heat or it is heating too slowly, the most likely suspect is the thermostat. If the problem isn't resolved by setting the thermostat to the temperatures recommended in the accompanying instruction manual, then you will need to replace it or the sensor. This tricky task may be handled best by a professional.
Unfortunately, water heaters in Tomball which are leaking will have to be replaced. By the time a leak occurs, there are no repairs or further maintenance to be done. The leaking heater could become very dangerous, however, so you will want to call in a professional to address the problem. Most professional plumbers will be able to provide or recommend a new water heater with a better energy efficiency rating. They will also be able provide you with advice about the maintenance that will keep the new water heater operational.
Myers Plumbing Services Inc. offers Rheem Pro series (8 year tank warranty) and Fury series (6 year warranty) models with professional installation for your Water heaters in Tomball. Visit them now.